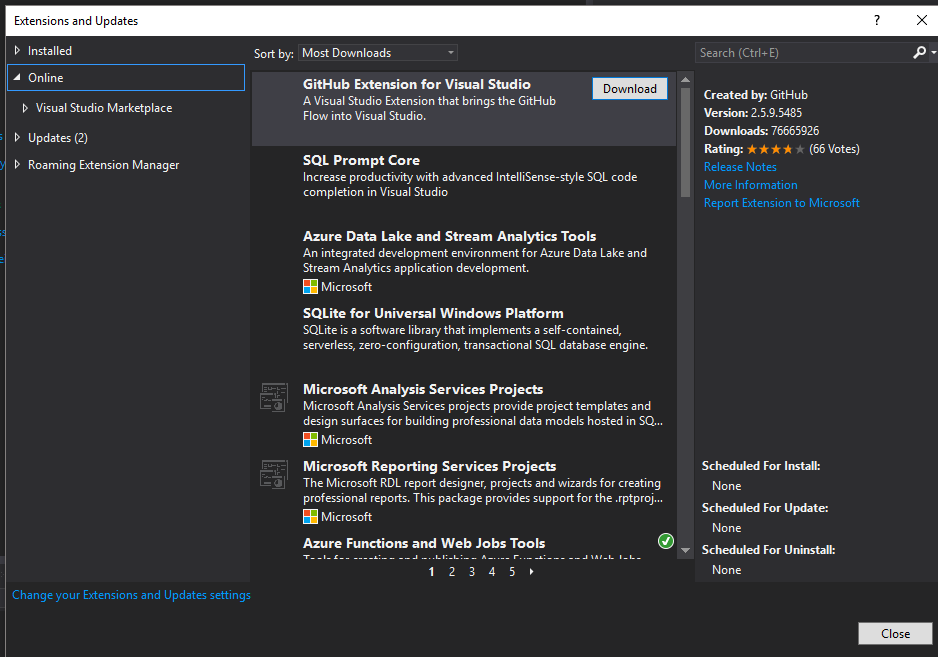 Recently at a Microsoft event, I heard that there are still over two million desktop application developers--that is, currently writing or maintaining Windows desktop apps, whether written in C++ or .NET. And regardless of your tool lashup--be it Winforms and C#, or WPF or UWP, Visual Studio is the IDE of choice. (VS Code is great, it's awesome, I use it myself--just not for pure Windows desktop development. For that I want the full meal deal.)
And one of the things that makes VS2017 such an amazing IDE is its extensibility, which has allowed an entire vast ecosystem of add-ins to flourish. You can find them in the Visual Studio Marketplace, or by searching from inside VS: Just go to Tools.Extensions and Updates... and select the "Online" option:
You may not remember the days before there were add-ins, but let me tell you they were bleak. Nowadays, if you have a specific need for functionality, there's a nearly 100% chance that someone else has the same need and has written an add-in that more than adequately addresses what you might want to do. In fact, here at Mobilize, we're big geeks and are always looking for ways to make our developers more productive. In the spirit of sharing (and Thanksgiving, right?!) here are some of my favorite tools for making your programming more productive:
Progress
The creator of Telerik .NET and Kendo UI JavaScript user interface components/controls, reporting solutions and productivity tools, Progress offers all the tools developers need to build high-performant modern web, mobile, and desktop apps with outstanding UI. In addition to tools for creating web, mobile and desktop apps efficiently, Progress also enables developers to create modern chatbot experiences in their apps.
LEADTOOLS
LEADTOOLS Imaging SDKs help programmers integrate A-Z imaging into their cross-platform applications. The comprehensive toolkits offer powerful features including OCR, Barcode, Forms, PDF, Document Viewing, Image Processing, DICOM, and PACS. Whether you're building an Enterprise Content Management (ECM) solution, zero-footprint medical viewer, or audio/video media streaming server, LEADTOOLS has something for every developer with native libraries for .NET, Apple, Android, and Linux, as well as a newly released consumption-based Web API in LEADTOOLS Cloud Services.
Read More