Everything you wanted to know about .NET & more at .NET Conf
by DeeDee Walsh, on Aug 14, 2018 6:11:38 AM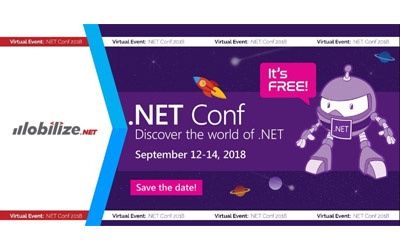 Save the date(s) for .NET Conf - Sept 12-14. Virtual conference includes technical sessions and how-to's, demos and much more. #dotNETConf is the place to be starting Sept 12.
I don't know about you, but I've been craving more info on .NET and .NET Core - there are lots of announcements and I'm looking for more demos and explanations of what's new and how-to's. Good news is that Microsoft is listening and has pulled together a three-day virtual (free!) conference that is loaded with great speakers and tons of technical sessions. Here are the highlights:
When:

Sept 12-14

Where:

https://www.dotnetconf.net/
What: 3 days of technical depth sessions on topics you care about including .NET Core and ASP.NET Core, C#, F#, Azure, Visual Studio, Xamarin, and much more.
Who: Speakers include all of your favorites - Miguel De Icaza (founder of Xamarin), Scott Hanselman, Kathleen Dollard, Scott Hunter, Mads Torgerson and many, many more.
What else: Mobilize.Net and a bunch of other companies will be hosting a Twitter and Twitch attendee party where you can see the latest partner product announcements, cool technical demos plus win prizes!
Want to attend? There are lots of local events that will be streaming the event plus offering indepth technical sessions. Find out more here: https://www.dotnetconf.net/local-events/
As always, Mobilize will be hosting the event on our website - we'll provide more info as we get closer to Sept. In the meantime, make sure you subscribe to the Visual Studio Twitch channel at https://www.twitch.tv/visualstudio so that you can follow everything real-time. Also, Richard Campbell (.NET Rocks! founder) will be hosting the Twitter party - follow him at @richcampbell for updates. It's always good to follow @dotnet, @visualstudio because both accounts provide tons of useful information.
Finally, if you want a taste of what you're going to see and learn, go to https://channel9.msdn.com/Events/dotnetConf/2017 to see last year's sessions.