Installing the Mobilize.Net Visual Basic Upgrade Companion
In this guide you will find step-by-step instructions to install Mobilize.Net's Visual Basic Upgrade Companion on your system:
Note: A license is required to install and use the Visual Basic Upgrade Companion. Please visit www.mobilize.net or contact us via VBUC support forum for further details.
After extracting the files in the VBUC_setup.zip archive, double-click "VBUC_Setup.exe" to launch the installation program.

The End-User License Agreement is displayed. Please read carefully and select the I accept checkbox and then click the Next button.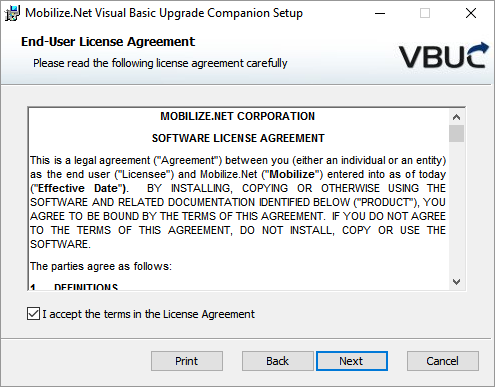 Select the folder where you want to install the Visual Basic Upgrade Companion. You can change the default location by clicking the Changebutton. You can also check or uncheck the option "Create a shortcut for this program on the desktop". Then, click Next.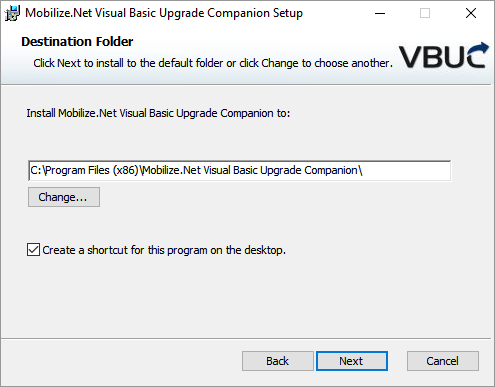 You now receive a confirmation screen. Click Install if you are ready to install the software or click Back to review or change any of your installation settings.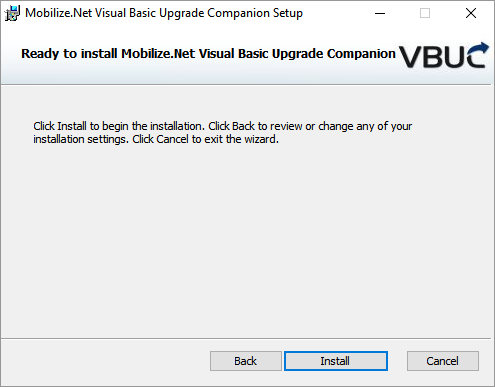 The installation process will take a few minutes. The progress bar shows the overall completion.
Once the VBUC installation is complete, you will get the following confirmation screen. You can check the option Launch the Visual Basic Upgrade Companion to start the VBUC before clicking the Finish button.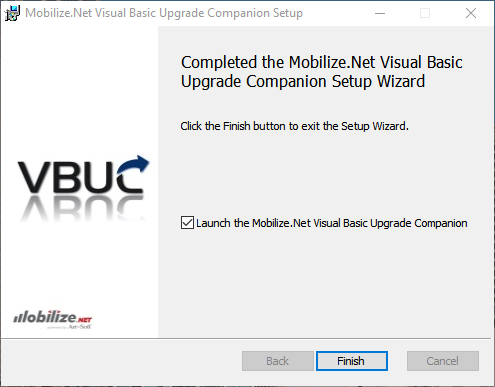 Installing the Visual Basic Upgrade Companion License file