Upgrade for Microsoft Visual Studio 2017 | Mobilize.Net
by DeeDee Walsh, on Tue, Mar, 21, 2017 @ 06:03 AM
Visual Basic Upgrade Companion (VBUC) supports Visual Studio 2017 and adds additional artificial intelligence to speed up VB to .NET migrations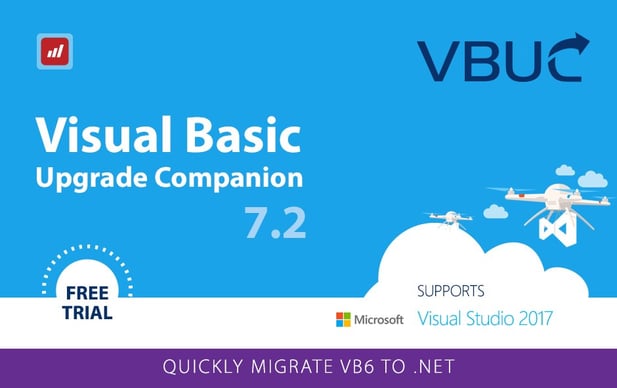 Bellevue, WA – Mar 21, 2017 – Mobilize.Net today released an update to VB Upgrade Companion (VBUC) for Visual Studio 2017. In the latest update VBUC provides full support for Visual Studio 2017 both in source code compliance and in generating VS2017 solutions. In addition, VBUC includes additional artificial intelligence features that make more informed decisions on the VB code ensuring that the resulting .NET code is cleaner and faster.
Mobilize.Net helps companies move critical code to .NET, to the web, to mobile devices and to the cloud. Every day thousands of developers use Mobilize.Net modernization tools to transform important line-of-business applications from old systems to modern platforms.
"Every version of VBUC gets better and better," said Tom Button, CEO of Mobilize.Net. "This version makes it possible for developers to focus less on the mundane task of migrating code to .NET and more on the interesting job of adding new features to the migrated .NET code."
VBUC Paves the Way to Mobile and Cloud
VBUC provides the best onramp to WebMAP, enabling customers to move from VB6 all the way to web, mobile and cloud via additional automation.
VBUC Is Used By Enterprises, ISVs and SIs*
Hundreds of thousands of customers have successfully used VBUC to convert code to .NET and beyond. All vertical markets are represented including healthcare, manufacturing, banking, energy and more; plus major corporations like Bank of America, Citigroup and Microsoft have used VBUC to transform large workloads to new platforms. In addition, system integrators like Avanade, Infosys, Wipro and others have found VBUC to be a very valuable tool in migrating their customers' code to new platforms. A full list of Mobilize customers can be found at http://www.mobilize.net/resources/customer-list.
About Mobilize.Net
Mobilize.Net accelerates and simplifies the transformation of software applications to .NET, web, mobile, and cloud platforms. Millions of developers have used Mobilize.Net technology to successfully modernize billions of lines of code. Mobilize.Net solutions enable customers to reduce risk, cost, and time while moving applications to the platforms businesses demand today. Mobilize.Net migration technology is Microsoft's chosen solution for Visual Studio and MSDN customers. The privately-held Mobilize.Net is based in Bellevue, WA, and is led by former Microsoft Corporate Vice President, Tom Button. For more information, please go to www.mobilize.net.
# # #