Mobilize.Net Announces WebMAP3 Targeting AngularJS/Bootstrap
by DeeDee Walsh, on Wed, Nov, 11, 2015 @ 06:11 AM
---
THE LATEST WEBMAP PRODUCT FROM MOBILIZE.NET TRANSFORMS WINDOWS APPS INTO CLOUD-READY, NATIVE WEB APPS WITH ADAPTIVE MOBILE UI
BELLEVUE, WA – Nov 11, 2015 – Mobilize.Net today announced WebMAP3, the industry's leading tool for mobilizing Windows applications, now targets AngularJS/Bootstrap. WebMAP3 converts classic Windows apps into modern web applications with responsive UI that scales across form factors from PCs to Macs to iPhones, iPads, and Androids. In conjunction with the AngularJS framework, WebMAP3 uses Bootstrap, which provides contemporary CSS stylings and a responsive design. WebMAP3 lets customers take advantage of Bootstrap features like Alerts and Carousels to provide a more natural, modern web app user experience. WebMAP3 generated apps run on all industry standard browsers including IE, Chrome, Firefox, Edge, and Safari. Customers can access WebMAP3 at https://studio.mobilize.net.
---
"$25 billion per year. That's what IT spends annually maintaining millions of desktop apps locked onto obsolete Windows platforms," said Tom Button, CEO of Mobilize.Net. "WebMAP3 recovers the value trapped in those legacy apps through high fidelity translation of the business logic and workflows to current languages and cloud-ready architectures, while maintaining full functional equivalence. WebMAP3 is an onramp to the cloud for valuable business software."
Below is an app that was originally written in VB6. It was converted to HTML5 and JavaScript using the AngularJS UI libraries.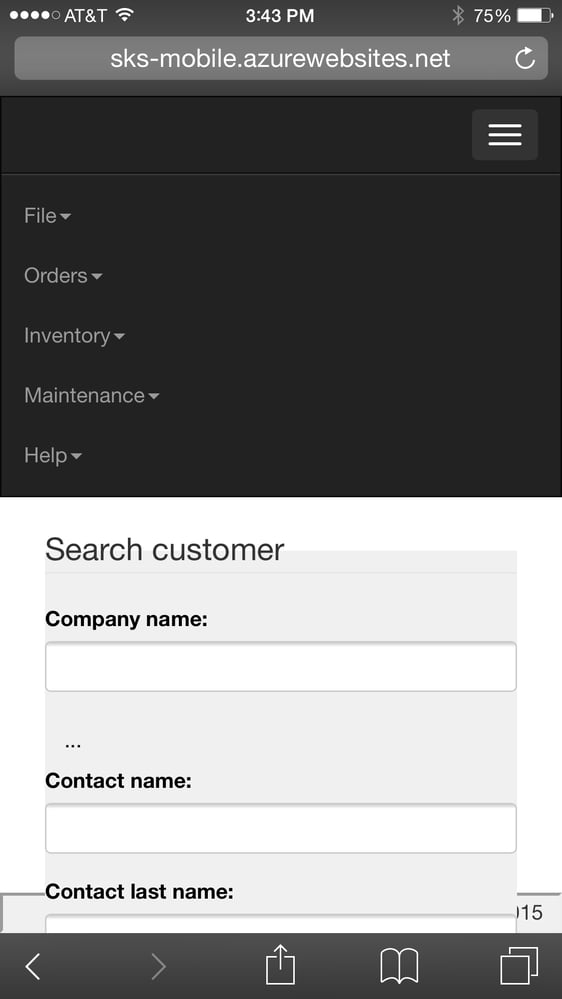 Customers and Partners Choose Mobilize.Net
Mobilize.Net is the preferred choice for customers who want to modernize their client/server desktop applications to modern platforms. 80% of the Fortune 1000, including leading enterprises and ISVs, have benefited from Mobilize.Net modernization tools. Mobilize.Net technologies also help global system integrators be more competitive and provide faster service to their customers.
"The greatest value that WebMAP brings to Capita is that it reduces the time and money it takes to migrate our apps off older technologies," said Stephen Davis, Commercial Director at Capita Insurance & Benefits Services. "Without WebMAP migration technology, we would take at least twice as long to migrate our software at more than twice the cost. In addition, Mobilize.Net offers outstanding professional services which has helped us to complete the final mile on our software development."
"Avanade is committed to providing our clients with superior solutions by leveraging the latest in technology," said Rob Leach, senior director of global cloud platforms, services and offerings at Avanade, "With Mobilize.Net modernization technology, we are able to better support our clients, as they move legacy applications to mobile and cloud workloads, in their journey to become a Digital business."
"We live in a mobile-first, cloud-first world and nowhere is this more apparent than with our application development community," said Mitra Azizirad, General Manager of Developer Platform Marketing and Sales at Microsoft Corp. "Mobilize.Net's WebMAP3 modernization technology accelerates customers' ability to move to Microsoft Azure and embrace the benefits of mobile and cloud computing."
---
Customers can try WebMAP3 by registering for a free account at www.mobilize.net/register.
About Mobilize.Net
Mobilize.Net accelerates and simplifies the transformation of software applications to .NET, web, mobile, and cloud platforms. Millions of developers have used Mobilize.Net technology to successfully modernize billions of lines of code. Mobilize.Net solutions enable customers to reduce risk, cost, and time while moving applications to the platforms businesses demand today. Mobilize.Net migration technology is Microsoft's chosen solution for Visual Studio and MSDN customers. The privately-held Mobilize.Net is based in Bellevue, WA, and is led by former Microsoft Corporate Vice President, Tom Button. For more information, please go to www.mobilize.net.
---