VBMAP: the most efficient VB to .NET migration solution
At last there's a cost-effective, efficient VB to .NET migration solution. The Visual Basic Modernization Accelerator Program (VBMAP) gets your application 95% of the way to a finished VB.NET or C# code base at a fraction of the cost of a manual rewrite.
VBMAP relies on the same advanced migration engine of the Visual Basic Upgrade Companion--Microsoft's preferred route for migrating VB code to .NET. VBUC has been used to migrate over a billion lines of VB code.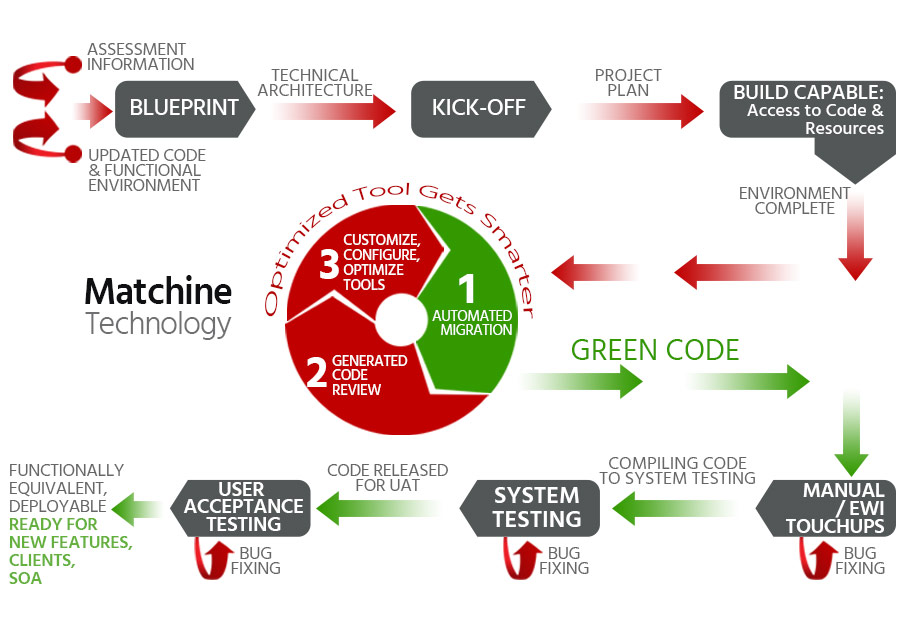 VBMAP differs in that you and Mobilize.Net partner togther to migrate your application. You provide resources and expertise where knowledge of the application and business rules is vital; we provide engineers experienced and efficient at VB to .NET migration. Coupled with our powerful, customizable tools we can offer you the fastest and most cost-effective solution for upgrading your VB code base.
Migrate Faster, Lower Cost
Customizations for your specific project reduce code cleanup and manual replacement steps
On-site migration engineers ensure you get maximum productivity by learning best practices in code modernization, developed over two decades performing thousands of similar migrations.
24x7x365 support ensures you have expert help when you need it.
Why choose VBMAP?
Faster: Four times faster to deploy than a rewrite
Cheaper: Up to 95% less expensive compared to a manual rewrite
Lowest risk: Guaranteed success with fixed price and schedule
Increased developer productivity
Preserves years of IP investment
100% native code without third-party runtimes
Break away from old platform constraints
Lets you deploy your internal resources where they can add the most value
Leverages our years of experience migrating code to .NET.
Here's what you get:
All source code converted to the target .NET language (VB.NET or C#).
The migrated source code will compile without errors but the code may still have runtime execution issues.
All application screens will render correctly in the Visual Studio designer and will be visually equivalent to their VB6 counterparts. A workaround will be arranged for any areas where visual equivalence cannot be attained.
The application main form will run and all initial values are equal to the original VB6 application. Additionally, all forms that can be reached directly from the main menu will be revised to ensure they display properly and have the same initial values as the VB6 application. The objective is to verify that the main form and all associated forms are properly displayed in the new .NET application.
On-site migration engineer to migrate and deliver the code and train the customer on the final phase of the process.
Let us help you move to .NET.
Call us today at +1.425.609.8458 or email us at info@mobilize.net.