Who did steveb hate more?
by John Browne, on Mar 2, 2017 5:25:28 PM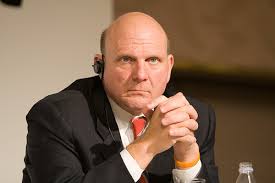 As part of what will be a brief but on-going series celebrating Visual Studio's 20th anniversary, I bring you a short video: Who did Ballmer hate more?
Ok, some explanation.
You may know Mobilize.Net for our legacy modernization tools, but what you may not know is that a number of us were at Microsoft at the dawn of Visual Studio. In fact, some of us actually created Visual Studio. Recently we gathered some of those responsible for an impromptu lunch and let them reminisce. And we caught it on video. Over the next few days, leading up to the launch of Visual Studio 2017, I'll be sharing some of the more hilarious clips from that session.
Steve Ballmer (aka steveb--pronounced "Steve-bee") wasn't always sold on developer tools as a money making machine. Windows made money, Office made money, but DevTools was there to make it possible for Windows and Office to make money. It wasn't supposed to be a profit center. Tom Button, Our Illustrious Leader, decided to change that.
In our first installment, Mike Risse recounts how Steve went from hating to loving. Watch below (3 minutes).