Snowflake IPO sets the bar for the future of cloud data platforms
by Brandon Carver, on Sep 15, 2020 9:00:00 AM
Like most of the planet, we tend to get excited around here when any member of our team has a big day. That includes our business partners, and I'd say that a highly anticipated public offering from one of our partners does the job. Happy largest-ever software IPO to Snowflake, the cloud data platform that was actually designed for the cloud. Snowflake's IPO date launched on September 16th.
The market was expecting a strong opening (especially since Snowflake had already received guarantees from Salesforce and Berkshire Hathaway ahead of time), but the result made those expectations seem conservative. After some talk about the initial IPO being set in the $75 - $85 per share, Snowflake arrived at $120 in the final hours before the launch. But that could not dampen the demand from investors. By the time trading actually opened for the appropriately abbreviated SNOW, it was available for $245 a share... more than double the price set the previous night. We raise our banners high to Snowflake for the largest software IPO and the largest IPO of 2020. It's a pretty good time to be the best in the business of cloud data platforms.
If you're riding the wave of excitement on this IPO, and you want to learn more about Snowflake or what it takes to get your data into Snowflake, you're not alone. Taking something like a secure data warehouse and putting it up in the cloud can be a pretty overwhelming idea, especially if you're used to the traditional structure of a server-based data warehouse. But there's a reason this IPO is gathering so much steam. If you want a high level view of the differences between Snowflake and a traditional data warehouse (such as Oracle or Teradata) and the steps it would take to get your data into Snowflake, click on the link below.
Despite the power of this IPO, if you're not sure about Snowflake just yet (as an investment or a data platform) even after watching the webinar above, we get it. We've been updating legacy code for over 25 years, and we know it's hard to let go of something that has worked in the past. So, why should you let it go? Why is Snowflake's IPO so highly anticipated? What is it that makes Snowflake so exciting to investors as opposed to their competitors in the market? There's more than enough information out there comparing different kinds of data warehouses and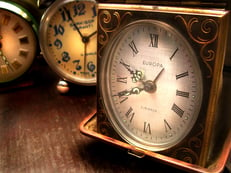 they each will give you more than a few reasons why Snowflake is exciting, but from this data science geek and systems engineer's perspective? It's the same two concepts that most any investor can wrap their head around: time and money. (Shocking, right?)
Snowflake's cloud based architecture was built specifically for the cloud, not retro-fitted for it. As a result, you're free from many of the traditional constraints that come with a traditional data warehouse that has servers on site. Your code and your cost structure are also set free from those same constraints. There is no maintenance, and no massive investment in infrastructure up front.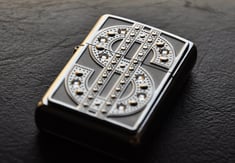 It's all secured in the cloud. (And yes, it is secure.) You can focus on getting the maximum amount of value out of your data, and all you'll pay for is your cloud storage and any compute power that you need. (More about Snowflake's pricing can be found on their website.) Regardless of the size of your data warehouse, the final cost in time, effort, energy, and money will most likely be less than a traditional option.
So if Snowflake's platform is more efficient than those legacy data warehouses, there must be a catch. How complicated is it to get there? If the operating costs are lower, what's the cost of migrating to Snowflake? Well, if you're like the typical data warehouse user that we've seen in the past year, you might have terabytes of data in need of relocation, hundreds of users in need of retraining, and millions of lines of code in need of an upgrade. (And just in case you haven't heard, all SQL is not created equal.) All of that moving, retraining, converting... something must be getting lost in the shuffle. Why risk the stability of your data warehouse even if it is to save some time and money?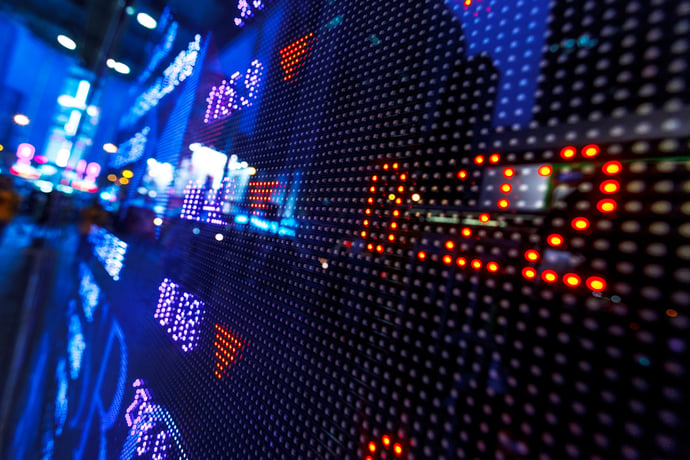 That's where Mobilize.Net comes in. We may not be building an IPO, but we have been building a reputation for quality over the past two decades. If you're looking for a data migration strategy, we've got the experience and the automation tools to build the perfect plan that takes into account the most important elements of any migration: your data, your people, and your code.
So if you're looking to enrich more than just your portfolio and migrate to Snowflake, more than a few of Snowflake's 3100+ customers have used Mobilize.Net's automation technology as the secret sauce in their successful migration. Even Snowflake leverages Mobilize.Net's automation products to develop their own solution offerings. Here's just a quick glance at some of the aggregated data (as of 9/1/2020) we can share just from the past 6 months performing database migrations to Snowflake.
>193 million lines of code converted
>4.1 million objects converted (Tables, Views, Procedures, Macros, BTEQ)
Average level of automation for initial workloads is 95.45%.
Median level of automation for initial workloads is 99.1%.
Click on the link below to see a demo of one of our migration tools, and learn how we can automate the process of getting your data to Snowflake.
So as Snowflake's stock star rises, so does the future of cloud data warehousing.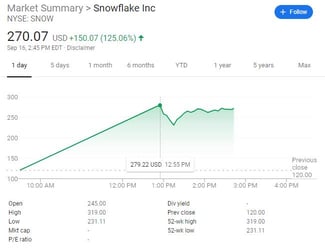 Mobilize.Net can ensure that as you hitch your ship to that shooting star, your transition is just as smooth as the slope on the upward increase on Snowflake's stock curve from yesterday. Whether you're looking for a product to automate your Teradata or Oracle to Snowflake migration or just need someone to partner with you on a cloud migration strategy, we'll be here to help. The more you know, the more successful your migration will be, regardless of whether you add SNOW to your portfolio.