India IT Leader, Raj Biyani, Joins Mobilize.Net Advisory Board
by DeeDee Walsh, on Wed, Apr, 27, 2016 @ 09:04 AM
Raj Biyani, former Managing Director of Microsoft IT India and noted author, speaker and transformational leader joins Mobilize.Net advisory board.
BELLEVUE, WA – April 19, 2016 – Mobilize.Net, the leading provider of enterprise software modernization technology for web mobile and cloud, today announced the addition of Raj Biyani to the Mobilize.Net Advisory Board.
"We are pleased to welcome Raj to Mobilize.Net," said Tom Button, President and CEO, Mobilize.Net. "Raj's in-depth experience in IT and India together with his understanding of business and technical migration to the cloud provides us with invaluable insight and perspective."
Previously, Biyani served as Managing Director of Microsoft IT organization in India and has numerous published works on the topic of cloud transformation and organizational transformation. Biyani has also shipped multiple software releases including Windows Marketplace and MSN Shopping..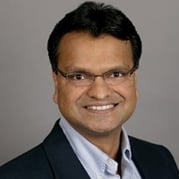 "I am excited to be joining as an advisor to Mobilize.Net because of its focus and passion in providing compelling modernization technology," said Biyani. "Mobilize's technology provides the company with a unique ability to supply enterprises and ISVs with game-changing solutions."
About Raj Biyani
Raj Biyani, a 17-year Microsoft veteran, is the former Managing Director of Microsoft IT India, where he led the 1,200+ member engineering center from 2010-2015. Featured in a Harvard Business School case study "Microsoft IT India", under Biyani's stewardship the Microsoft IT India leadership index improved from 51% to 99%.
Biyani is a tireless advocate for increasing the value-add and impact of multinational corporations (MNCs) operating in India, and towards that end, co-produced a documentary featuring MNC leaders in India, "Inventing the Zero, Reaching for Infinity: The story of India and its IT industry," that was telecast on CNBC.
Before relocating to India, Biyani worked on several engineering teams within Microsoft product groups, including the Windows Marketplace team (precursor to the Windows Store). As General Manager in Microsoft IT, Biyani helped shape and accelerate Microsoft IT's cloud strategy through the internal evangelism and adoption of Microsoft's Azure cloud platform, including developing and deploying the first Windows Azure LOB application. Biyani recapped the learnings on moving to the cloud in a book he co-authored "To the Cloud: Cloud Powering an Enterprise" – the Why, What, and How of enterprise cloud adoption, which highlights the key lessons learned and shares a 4E conceptual framework (Explore, Envision, Enable, Execute) for CXOs to leverage.
During his 17 years at Microsoft, Biyani was awarded several US patents, one EU patent, and established himself as a thought leader by authoring and co-authoring ten "ThinkWeek" papers for Bill Gates.
Biyani holds an MBA with honors from the University of Chicago Booth School of Business.
About Mobilize.Net
Mobilize.Net accelerates and simplifies the transformation of software applications to .NET, web, mobile, and cloud platforms. Millions of developers have used Mobilize.Net technology to successfully modernize billions of lines of code. Mobilize.Net solutions enable customers to reduce risk, cost, and time while moving applications to the platforms businesses demand today. Mobilize.Net migration technology is Microsoft's chosen solution for Visual Studio and MSDN customers. The privately-held Mobilize.Net is based in Bellevue, WA, and is led by former Microsoft Corporate Vice President, Tom Button. For more information, please go to www.mobilize.net.