.NET Conf: Your Virtual Passport to the .NET Universe
by DeeDee Walsh, on Jul 31, 2023 9:21:46 PM
Hello, fellow code warriors! Pack your virtual bags because .NET Conf is about to whisk you away on a thrilling journey from November 14th to 16th. And the best part? It's all happening right in the comfort of your own home office!
Highlights:
.NET general availability launch
80+ live sessions, 24-hour continuous broadcast
Games, prizes, digital swag + get all your questions answered by .NET experts!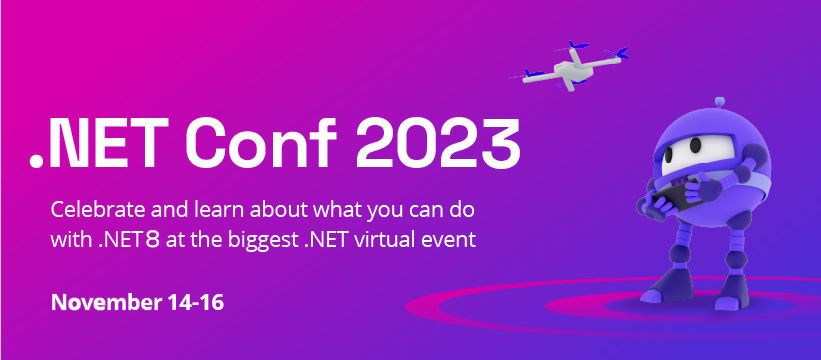 Now, don't think this is just another event. We're taking a giant leap forward as we celebrate the much-anticipated launch of .NET 8. It's like unboxing the latest gaming console, but for us developers!
And who are our guides on this .NET adventure? None other than the titans of the .NET world! Think of Scott Hanselman, Jeff Fritz, and Scott Guthrie as the dream team leading us through the coding wilderness over this free 3-day virtual conference.
But wait, there's more in our goodie bag! We've got some generous sponsors lined up who are ready to shower us with prizes. Last year, they gave away over $50,000 worth of goodies. So get ready to try your luck!
Here's another exciting update: Mobilize.Net is turning it up a notch by updating all their modernization tools to support .NET 8. It's like getting a brand new set of power-ups for your favorite video game!
Can't wait to dive into the world of .NET 8? We've got a blog post that's ready to take you on a tour: What's New in the Upcoming .NET 8. It's a must-read!
And of course, no .NET Conf would be complete without the legendary CodeParty - the biggest virtual bash for .NET enthusiasts. It's like the afterparty you don't want to miss, full of coding challenges, knowledge sharing, and loads of fun!
So, are you ready to embark on this epic journey? Set your course for https://www.dotnetconf.net/ and buckle up for the biggest .NET event of the year.
See you at .NET Conf, fellow code warriors! Let the coding quest begin! 🚀