Fast track your move off of Windows XP
by DeeDee Walsh, on Feb 18, 2014 4:02:00 PM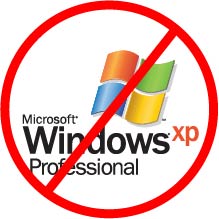 Windows XP is out of support on April 9, 2014. That's less than 7 weeks away and the clock is ticking. We know that increasing complexity of business environments, higher operational costs and big data requirements have placed pressure on IT departments to find solutions fast. The last thing you want to worry about is a legacy operating system. If you're still running Windows XP, chances are good it's because you've got a legacy application that only runs in that environment. You're probably reluctant to change it because of the cost, time and complexity.
At Mobilize.Net we've created a Slideshare that outlines the issues and offers real options for moving forward. Find out the strengths and weaknesses come with each solution, what you should consider and what you stand to gain by moving forward. Here's what you'll learn:
What are the Windows XP end of life considerations?
Is it too late to start my migration?
How can I accelerate the migration to Windows 7/8 faster, cheaper, and keep my users happy?
How can I protect my IP without introducing new bugs?
What can I do to adopt new platform technologies without disrupting the user experience?