Anti-virus won't solve your Windows XP end-of-life problems
by DeeDee Walsh, on Apr 17, 2014 4:01:00 AM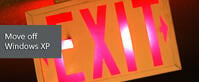 Microsoft said they'd end support for Windows XP and they went and did it. A lot of people thought they'd delay it yet again, but this time it's real. No more support. (Unless, of course, you want to pay Microsoft a truly exorbitant amount of money.) Now you're faced with making a decision about what to do with your Windows XP PCs. We've been asked by several customers if using anti-virus software is a solution for the lack of support from Microsoft.
"Antivirus cannot patch the underlying vulnerability," said Andreas Marx, CEO of AV-Test, a German company that regularly evaluates antivirus (AV) products for Windows. "There's nothing that AV can do to close those vulnerabilities, it can only limit malware spreading from one machine to another." Computerworld, Jan 15, 2014
In Microsoft's own words: "Our research shows that the effectiveness of antimalware solutions on out-of-support operating systems is limited. Running a well-protected solution starts with using modern software and hardware designed to help protect against today's threat landscape." Microsoft has a number of recommendations which you can find here.
If you're still a little unsure what XP end-of-life means to you as a developer, we've got some help for you. We've compiled everything you need to know about XP EOL into an easy-to-read eBook "A Developer's Guide To XP End-of-Life". It will tell you:
How big is the problem

Should you worry?

What can you do about it?

The best options for moving your XP-dependent apps to modern platforms.
Click here for the eBook.